In 2013 New York City was home to 11,412 public payphones throughout the five boroughs. NYC's contract with the current vendor of these payphones was about to come to an end and they were looking for innovative new uses for this outdated piece of infrastructure. The current payphones were made obsolete by cell phones, with one exception, emergency situations. For example, the payphones were invaluable during Hurricane Sandy, when large portions of the city went without power for days. Along with addressing the needs of emergencies the city was looking for a payphone that connected people and would support local residents, businesses and cultural institutions.
How can New York City use payphone infrastructure to create a new public utility to make the city safer, more accessible, healthier, greener, and better informed?
Although the outdated payphones go, for the most part, unnoticed by the current residents of New York, when plotted on a map it's clear that a they form a consistent and comprehensive network across the island of Manhattan. This perspective shows the clear opportunity for leveraging this blanket of infrastructure to create systems where the payphones work together.
1

Q&A With Stakeholders

To kick off the project I attended an open information session hosted by the NYC Government where city officials representing various offices related to the payphone infrastructure voiced their views on the future of payphones.
2

Interviews

New Yorkers are fiercely opinionated and were more than willing to give me their two cents on payphones, and on life in general in the City. One noted that payphones are only as useful as the amount of telephone numbers you have memorized.
3

Photo Ethnography

It was important that I get out on the street and see for myself the current state of New York City's payphones. This was also a chance to document the city's other various public objects. The hardest part was finding anyone actually using a payphone.
How might we get people off the beaten path and encourage exploration?
When talking with people about their past trips to New York, I often found that those that had bad experiences tended to stick to the tourist hot-spots and were often intimidated and confused by the prospect of exploring opportunities off the beaten path.
How might we leverage the network of payphones to improve the livability and environment of the city?
Beyond Central Park, NYC has a lack of green spaces. Many of the city's most beloved public projects, such as the Highline and pedestrian plazas, are attempts to remedy this. Concepts in this area ranged from potted plant designs to a network or air filters.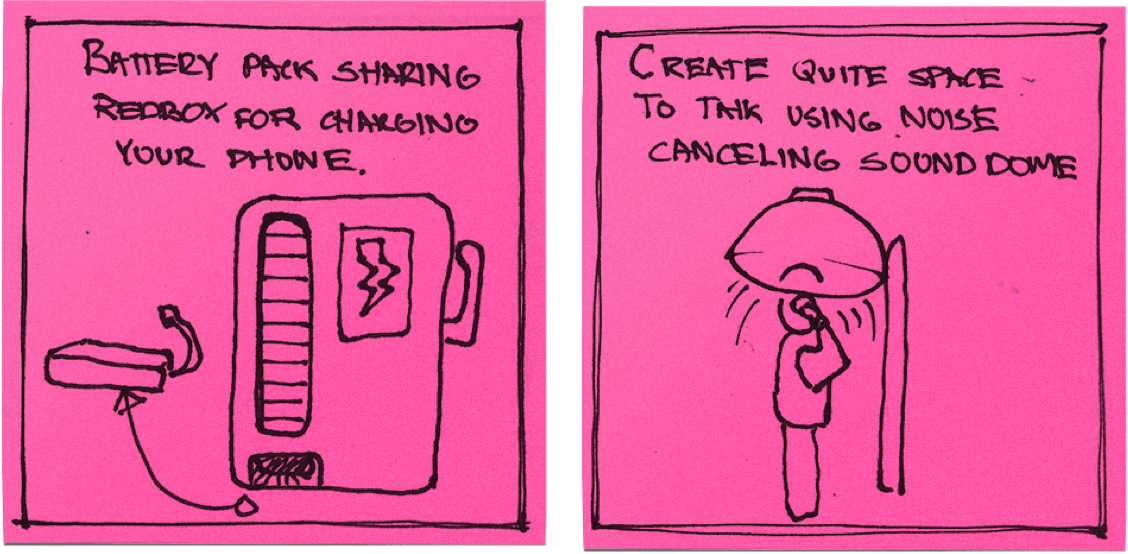 How might we transform the payphones to improve the experience of cell phone communication?
The cities payphone are rarely used for their intended purpose of making calls. That's almost exclusively done with cell phones. Instead of competing with cell phones for people's attention, can the payphones offer ways to improve the way New Yorkers are already communicating.
New York City is a living, breathing museum of urban life. Its endless, ever changing array of exhibitions span throughout the five boroughs. With so much to take in, it's easy for visitors and residents to be overwhelmed. In such a fast paced and dynamic place, people need help finding their authentic New York experience. It's found at the top of the Empire State Building or in the crowds of Times Square. Idt's also in the tiny dumpling vendors of Chinatown and in Al Capone's clandestine tunnels under Webster Hall.

The City's existing payphone would be replaced with touchpoints that would be part of "NYC The Official Experience", which builds off of the idea of NYCgo's "Official Guide". The heart of the experience would be carefully curated "tours" leading participants from touch point to touch point, visiting various locations related to the tour's theme. NYC The Official Experience is more than an information kiosk, it's the ultimate guide for discovering New York, or maybe just rediscovering a forgotten neighborhood.
The initial sketches were explorations of some of the concepts generated in my "big picture" brainstorms. They are visualizations of things like what a planter kiosk combination might look like, or how how a noise canceling dome might be configured. From the beginning I knew I wanted the new touch point to be smaller than the current payphones, many of which are full booths. In addition I wanted the form to blend into the city and take cues from its unique architecture.
I moved forward with a design direction based on a durable water cut steel skeleton and a molded plastic house for electronics. I further refined the form to a design that I felt was robust without feeling monolithic and utilitarian. I also explored features like bike storage and how the unit will tap into the power and data coming from the ground.
Model Making
At points throughout the project I drew on my past experiences with designing furniture. This was especially true when it came to model making. Small scale chipboard and foam-core sketch models allowed me to quickly iterate different combinations of sheet metal and plastic. Once a basic architecture was chosen I moved to full scale measured drawings and eventually a full scale model.